Being the most important daily meal, your breakfast should be rich in numerous nutrients that will improve your overall health. Additionally, the secret to boosting your weight loss abilities is a well-balanced regime.
In fact, oats are considered as one of the least processed foods that are abundant in carbs and fiber, such as beta-glucan. Also, oats provide a much better source of protein and fat than grains.
Here's the recommended daily intake of half a cup (78 grams) of dry oats:
Manganese: 191% of the RDI
Magnesium: 34% of the RDI
Phosphorus: 41% of the RDI
Vitamin B1: 39% of the RDI
Copper: 24% of the RDI
Zinc: 20% of the RDI
Iron: 20% of the RDI
Vitamin B5: 10% of the RDI
Folate: 11% of the RDI
Therefore, if you combine such breakfast with regular exercise and healthier meal alternatives, you will definitely drop excess weight, promote overall health, and strengthen the entire body.
WHY SHOULD YOU EAT OATS TO LOSE WEIGHT?
Oats are rich in fiber, which is a necessary nutrient for promoting digestive health. Breakfast is often considered the most important meals of the day, as the energy that you receive will help you get through the day.
Overnight oats will definitely provide you with the energy, but they will also provide you with fiber that can help you control your appetite and resist food cravings. The aid that fiber brings to your digestive system will also boost your metabolism.
This combination of benefits will help you lose weight with minimal effort; though, you should combine this with regular exercise and other healthy food choices. If you want to take advantage of these weight loss benefits, then use some of these overnight oats recipes.
1. Raspberry, Almond, and Coconut Overnight Oats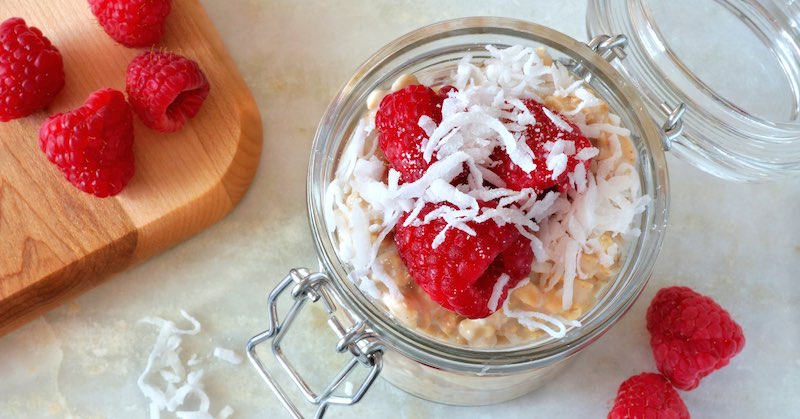 The recipe makes one serving, but you could prepare a larger batch in a larger jar if you choose.
Ingredients:
½ a cup of rolled oats
½ a cup of unsweetened coconut milk
½ a cup of raspberries (frozen ones work well too)
1/8 teaspoon of almond extract
1/8 teaspoon of ground cinnamon
1 teaspoon of raw honey
1 teaspoon of shredded coconut
½ a tablespoon of sliced almonds
Directions:
Use a pint size glass mason jar to prepare these overnight oats. Add the oats, milk, raspberries, extract, ground cinnamon, and raw honey in a jar. Stir the ingredients until they are thoroughly combined. Place a lid on the jar and store in your fridge overnight. Keep in the fridge for 2 to 3 days.
When you are ready to serve, add the shredded coconut and almonds. Stir everything, as some of the ingredients may have settled, and then serve.
2. Nut Butter and Banana Overnight Oats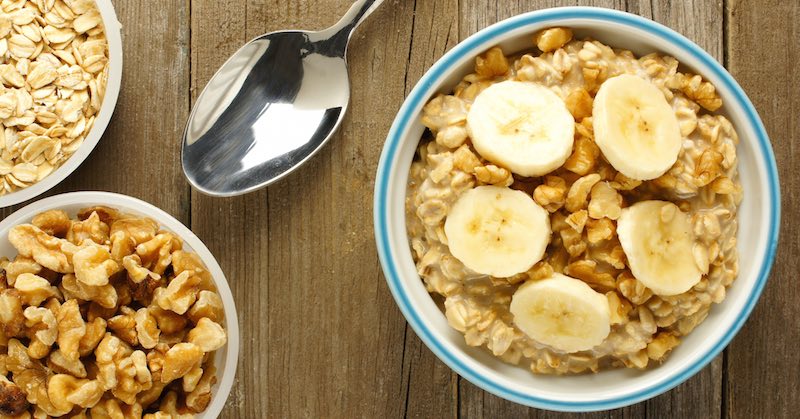 If you like peanut butter, you will love this next recipe. As with the previous recipe, there is no cooking or baking involved. You simply combine the ingredients and leave it overnight in the fridge.
Ingredients:
½ cup of rolled oats
½ a cup of almond milk
2 tablespoons of nut butter of choice
½ a ripe banana
1 tablespoon of unsalted nuts of choice
Directions:
Pour the milk into your jar. Stir the nut butter into the milk until it is mostly blended. Add the thinly-sliced banana and rolled oats. Stir until the ingredients are thoroughly combined. Place the lid on the jar and store in the fridge. In the morning, stir the oats and add a small dash of almond milk. Sprinkle the nuts of choice on top and serve.
3. Blueberry Walnuts Overnight Oats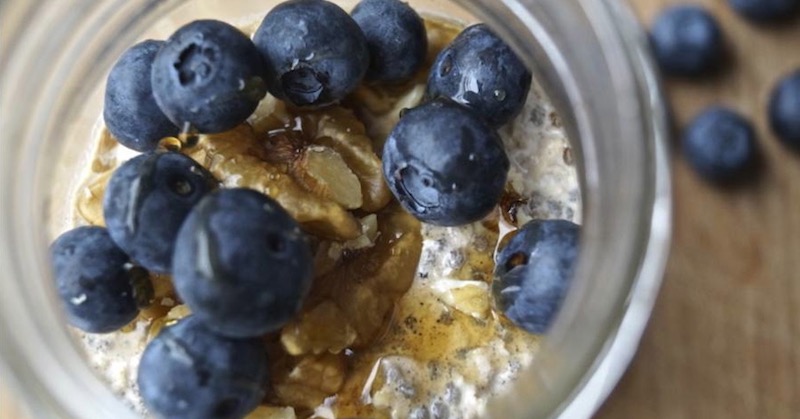 Blueberry walnuts overnight oats is a delicious overnight oats recipe. Prepare as the above and store in fridge overnight for a nutritious healthy breakfast.
Ingredients:
½ cup of rolled oats
½ a cup of coconut milk (or milk of choice)
½ cup of frozen blueberries
1 teaspoon of chia seeds
1 tablespoon of maple syrup
1 tablespoon of crushed walnuts
Directions:
Combine all of the ingredients in a mason jar. Thoroughly stir everything together until the oats are completely coated in liquid. Place the lid on the jar and store in the fridge. In the morning, you could stir in a little extra coconut milk to help loosen up the oats.
These overnight oats recipes are so amazing you will want to eat them every day! If you are looking for a healthy breakfast to help promote weight loss, try these simple oat recipes.