Make restaurant-quality Indian butter chicken at home in under 30 minutes! Join the thousands who have made this very popular Instant Pot Butter Chicken Recipe–which also happens to be a great keto chicken recipe.
WHY IS BUTTER CHICKEN SO GOOD?
I hate when people praise their own cooking and recipes–but I'm going to break my own rule because this Instant Pot Butter Chicken recipe is the bomb. This is my most popular recipe ever. Try it for yourself and you'll see why!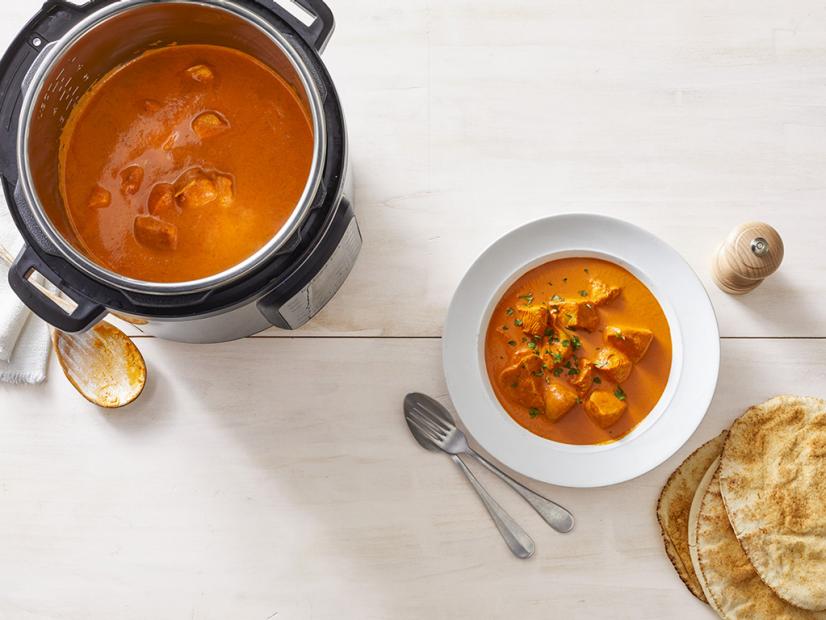 This recipe is super easy. You probably have all the ingredients at home already with one exception, which is the garam masala. But that's okay because I will show you how easy it is to make it! Just click on this link for garam masala, and you will have the best, easiest, and tastiest garam masala recipe EVER. I mean, EVER.
Ingredients
Deselect All
1 1/2 pounds skinless, boneless chicken breasts (about 3), cut into 1-inch chunks
Kosher salt and freshly ground pepper
2 cloves garlic, grated
1 teaspoon grated fresh ginger
1 teaspoon garam masala
1 teaspoon paprika
1/2 teaspoon ground cumin
1/2 teaspoon ground turmeric
1/8 teaspoon cayenne pepper
6 tablespoons unsalted butter, cut into pieces
1 15-ounce can tomato puree (about 1 1/2 cups)
1 1/2 teaspoons sugar
3/4 cup heavy cream
Chopped fresh cilantro, for topping
Naan or rice, for serving
Directions
1.Toss the chicken with 1 1/2 teaspoons salt and a few grinds of pepper in a large bowl. Set aside at room temperature. Stir the garlic, ginger, garam masala, paprika, cumin, turmeric and cayenne with 2 tablespoons water in a small bowl.
2.Set an Instant Pot to sauté on high. When the pot registers hot, add 2 tablespoons butter and let melt. Add the spice mixture and cook, stirring constantly, until thickened and sticking to the bottom of the pot, 2 to 3 minutes.
Add the tomato puree, sugar and 1/2 teaspoon salt, scraping up the bottom of the pot. Turn off the pot.
3.Add the chicken to the pot; stir to coat. Put on and lock the lid; make sure the steam valve is in the sealing position. Set the pot to pressure-cook on high for 5 minutes. When the time is up, let the pressure release naturally for 10 minutes, then carefully turn the steam valve to the venting position to manually release the remaining pressure. Turn off the pot and remove the lid.
4.Stir the remaining 4 tablespoons butter and the heavy cream into the pot; season with salt and pepper. Divide the chicken and sauce among bowls. Top with cilantro and serve with naan or rice.