Pancakes are a popular meal around our home, whether they're sweet, savory or some variation in between. And that "in between" is exactly where these Sweet Corn Pancakes with Bacon fall. I'm marrying the sweet with the salty in this latest stack-o-flapjacks, and it all begins with the one and only, bacon!
We're talking crispy lardons of thick-cut bacon, plus sweet corn and scallions all sautéed in said bacon fat. So the bacon flavor is bigger than ever. Cooking the pancake mix-ins for a few minutes before stirring them into the batter base amplifies the flavors and ensures the corn kernels are perfectly tender. And speaking of corn…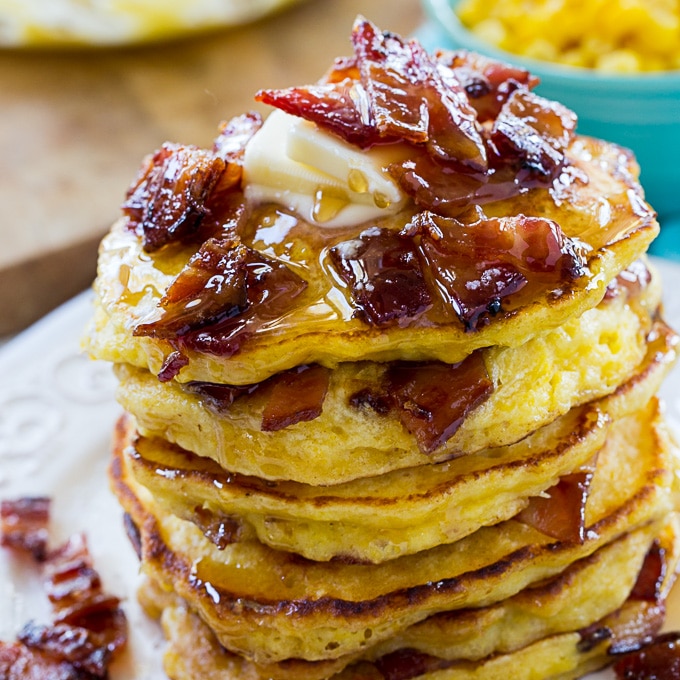 Yes! You can use either fresh or frozen corn in this recipe, making these sweet corn pancakes a viable breakfast or dinner option year-round.
To magnify the corn flavor and add a bit of textural intrigue to this recipe, I've included a touch of cornmeal. It makes the resulting pancakes a bit more dense, but the flavor and contrast in consistency with the fluffy standard pancake batter can't be beat.
Add the batter to a hot griddle (perhaps slicked with a bit of reserved bacon grease? #justdoit) and wait for bubbles to form until you flip these bad boys one time then slide 'em onto a serving plate. And here's where the big decision comes in: Do you stay the savory route and top them with a dollop of cool sour cream? Or do you satisfy those sweet and salty cravings with a drizzle of warm maple syrup? Weigh in below!
For more pancake perfection, don't miss recipes for Cheesy Leftover Mashed Potato Pancakes, Light and Fluffy Buttermilk Pancakes and Banana Sour Cream Pancakes. Craving more? Subscribe to Just a Taste to get new recipes, meal plans and a newsletter delivered straight to your inbox! And stay in touch on Facebook, Twitter, Pinterest and Instagram for all of the latest updates.