Here's one of my favourite lentil curries! It's delicious, easy and packed full of goodness!
Lentils are my go-to easy meal ingredient. They're easy to cook with, store well in the cupboard (which makes them perfect for those days you've not done a food shop) and have lots of health benefits.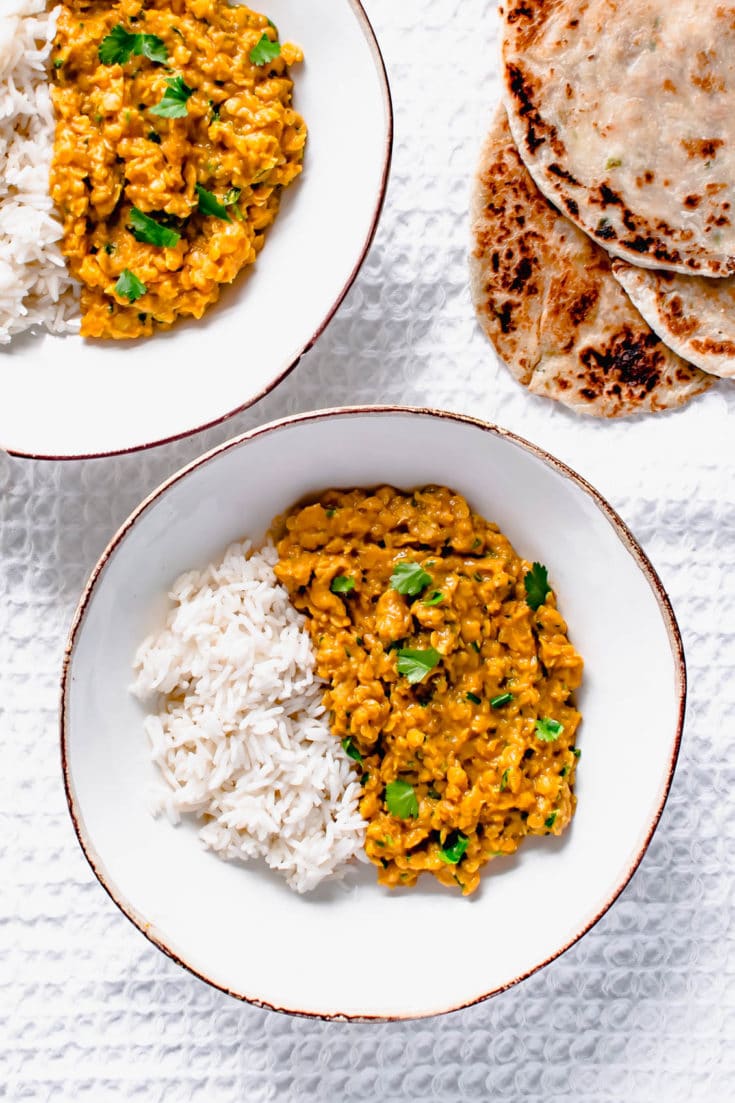 This curry is flavoured with lots of garlic, ginger and coconut! It's a mild, Indian inspired dish which is amazing as a main course with rice and naan, or as a side dish at a dinner party. I often make extra and enjoy over a few days as a packed lunch at work – served alone topped with coriander, it's delish!
This recipe is vegan and vegetarian so suitable for all the dinner guests you might have round!
How to make an Easy Red Lentil Coconut Curry at Home
1. Rinse and pick over the lentils. Rinse until the water runs clear2. Finely dice the onion, garlic and ginger. I chose to do this in my food processor to save time, but if you don't have one – chop by hand.
3. Heat oil in a large non-stick pan then add in the onion mixture
4. Fry on medium heat until beginning to caramelise (about 6 minutes)
5. Then add in the spices (curry powder, cumin, turmeric and chilli and stir to coat the onions. Cook for 30 seconds
6. Then add in the tomato puree, lentils, honey, coconut milk and water
7. Stir to combine then bring to simmer
8. Cook for 20 minutes, until thickened and the lentils, are cooked (should be soft but have a slight bite). If the water is evaporating too quickly, add some more in
9. Then turn off the heat and add in the coriander and garam masala
10. Stir to mix through – then it's ready to serve!