Chicken Salad just got a makeover! This Curry Chicken Salad recipe is a mouthwatering flavor bomb. Loaded with curry powder, creamy mayo, crunchy celery, and onion, this recipe will be on repeat for make-ahead lunches!
I'll confess that chicken salad is usually one sandwich filling I rarely opt for, with one exception: if it's curried. Somehow, a creamy dressing infused with the warm spices in curry powder turn classic chicken salad into something I love — especially if there are little bites of fun mix-ins like raisins, celery, and almonds.
If you already have cooked chicken, all that's required for a bowl of satisfying chicken salad is a little chopping and stirring. Sandwiched between bread or wrapped up in lettuce leaves, it's a great way to use up leftover roast chicken or cooked chicken breast. In fact, the next time you cook chicken, you might want to plan for leftovers just so you can make this salad!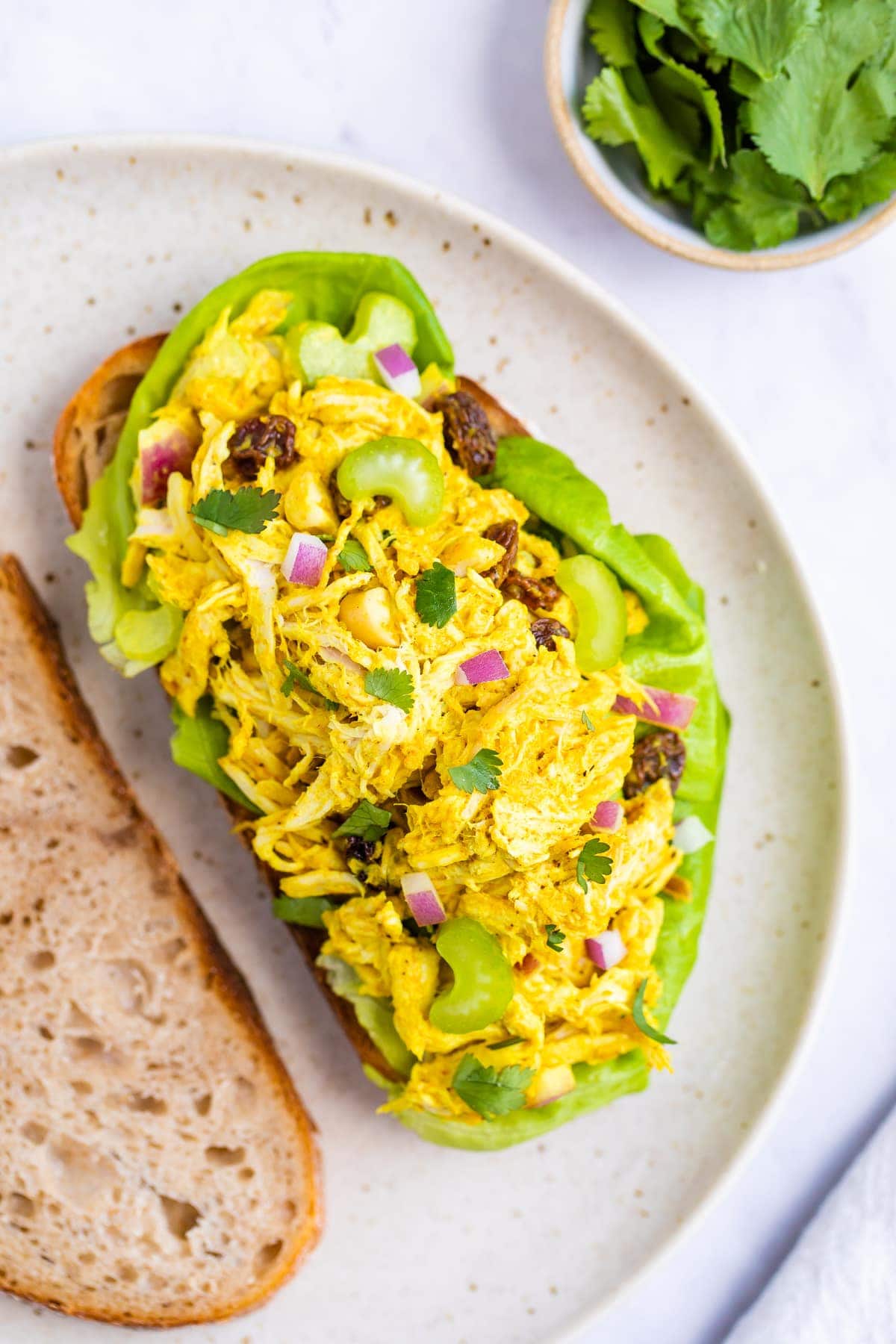 Key Ingredients in Curried Chicken Salad
Chicken: Any kind of cooked chicken will work here — just take off any skin or bones before dicing it up. I like to dice instead of shred so the pieces stay intact and don't get mushy.
Apricot jam or mango chutney: Just a little bit of apricot jam or Major Grey's mango chutney adds a hint of sweetness that tempers the sharpness of the curry powder.
Curry powder: Go for a mild, not hot, curry powder here.
Raisins: Controversial yes, but even a non-raisin-lover like me likes the juicy bites of sweetness they add.
Almonds: These are optional, but if you're using them, go with chopped whole almonds or slivered almonds. They are a bit sturdier and crunchier than the sliced kind.
How to Serve Curried Chicken Salad
You can serve curried chicken salad with or on just about anything you would serve with an egg or tuna salad. Depending on my mood, I reach for crackers for a snack-y lunch, or I'll put it on lettuce leaves for something lighter. For an on-the-go meal, stuffing it between bread is hard to beat. I especially like the crunch from a baguette with some lettuce or in a soft pita pocket.