Do you ever have one of those days when all you want is a giant, warm chocolate chip cookie, but have zero desire to bake, cook, or you know, function? This happens to me weekly, which, I suppose, should really inspire me to have chocolate chip cookie dough on hand at all times, or at the very least, one of these on-call easy dessert recipes I can whip up at the drop of a dime. However, I always forget, and then I end up with a craving so intense, I turn into a hangry monster. I can't help that I'm a lazy baker, and require simple two- or three-step baking recipes to get my baking fix!
These are the moments where I wish bakeries would deliver in the middle of the night. How has no one monopolized on this idea yet? There have to be hangry customers in every city wishing they could get someone to bring them a cookie right this minute.
If I were a better Pinterest addict, I would probably have a massive board dedicated to just this dilemma. Since I'd rather look at pretty complicated recipes that I'll never make, and aspirational desserts that require hours of work to perfect, I am out of luck.
That being said, I believe in positive change. That's why I have created this roundup of oh-so-simple desserts you can make in just two or three steps, perfectly designed for that lazy baker who lives deep within each and every one of us. When midnight rolls around and you're craving something sweet, you'll be glad you have these at your fingertips.
1. Two-Ingredient Pumpkin Brownies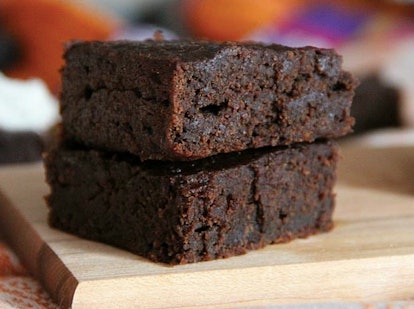 Pumpkin is on everyone's minds right now, so I know a midnight craving for pumpkin dessert is in my future. These pumpkin brownies from Cookies and Cups only need two ingredients, and they're beyond simple to make. Mix together your goods, bake, and you are 30 minutes away from gooey chocolate pumpkin perfection.