There's no such thing as the perfect running shoe. When it comes to running, all sorts of things come into play – your biomechanics, your weight, the surface you run on and the shape of your feet, meaning no one shoe will suit every kind of runner. One of the things we've noticed over the decades of producing shoe reviewsis the way our network of runners express themselves when they're filing their feedback on the shoes they've tested.
Quite often, they don't talk about the things the shoe does but instead focus on the things it doesn't do. As in: it doesn't pinch, it doesn't feel heavy, it doesn't make their feet sweat – and so on. This shows that, for many runners, the aim in choosing footwear is simply to find shoes that stay out of your way, don't intrude upon your run and just allow you to get on with it.
The more experienced you become, the more you may look for a specific required characteristic within a shoe – which is why we give each model such a thorough inspection – but it's worth remembering that, at a basic level, comfort is key. Here are the shoes that made it onto our list, and the ones we're looking forward to seeing later in the year:
Nike Zoom Pegasus Turbo 2 Mesh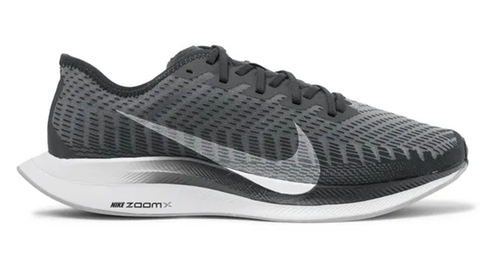 We haven't been able to take the word 'Turbo' seriously ever since it was erroneously plastered on every terrible third-party game controller of the Nineties. The 'TURBO' button, as we all know, was a scam. These, however, are not. Perfect for long distance running sessions, Nike have tricked these upgrades out with gripped rubber soles that absorb impact and allow you the kind of traction that you need on a rocky route. The engineered heel also supports the Achilles tendons, helping to steer you away from common injuries like tendonitis.