Looking for your next adventure or travel destination in the United States? With so many states, countless different kinds of activities, and endless landmarks scattered throughout the land, it can be hard to pick between them. But if what you're looking for are beautiful locations that ensnare the senses, we may be able to help. Here are the 12 most beautiful places to visit in the US.
1. Yellowstone National Park, Wyoming
Yellowstone National Park is a breathtaking paradise for those who love the outdoors.
Trending Now:
Spanning almost 3,500 square miles, this park is a trove of steep canyons, incredible mountains, gorgeous waterfalls, and fascinating geysers.
It is also populated with teeming wildlife, such as elk, grizzly bears, and buffalo.
On top of that, it is home to the rainbow-sheened Grand Prismatic Spring, which is deeper than 10 stories and the third largest spring on the planet.
Plus, despite its pull of over 4 million tourists on an annual basis, it's such a large place that you'll rarely run into anyone else.
So not only is it easily one of the most beautiful places in the US, but it's also a great spot for quiet enjoyment.
2. Maroon Bells, Colorado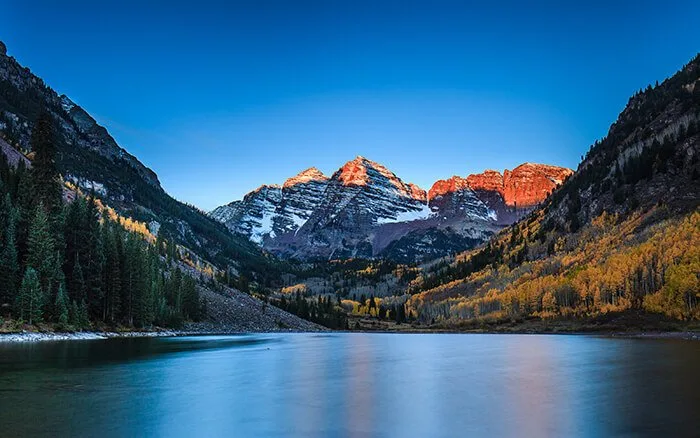 Aspen, Colorado is home to the stunning and gorgeous Maroon Bells, which earn their name from the majestic appearance cast by two peaks of the Rocky Mountains.
Beneath that grand sight, you'll be able to enjoy the crystal clear Maroon Lake, which is surrounded by lush fields full of colorful, vibrant wildflowers.
The Maroon Bells are easily in the top few most photographed attractions in the United States, and it's easy to see why.
Everywhere you turn, you'll feel like you're in a postcard. It's no wonder that this is one of the most beautiful places in the US.
3. Watkins Glen State Park, New York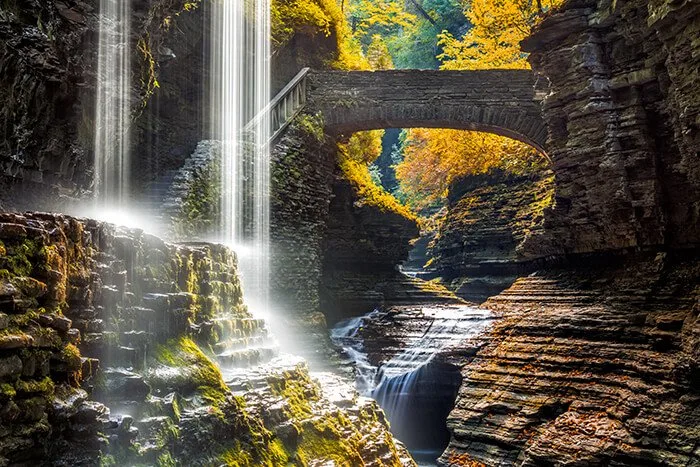 The Watkins Glen State Park is located in upstate New York, within the Finger Lakes area, and it is named after the nearest town.
It may be relatively small compared to many more famous parks at 778 acres, but it is home to a gorge that holds a grand total of 19 gorgeous waterfalls.
In addition, this park contains the Rainbow Bridge and Falls, which appear absolutely fantastical, as though ripped right out of a riveting fantasy tale.
There are also plenty of places to set up camp if desired.
4. Monument Valley, Arizona/Utah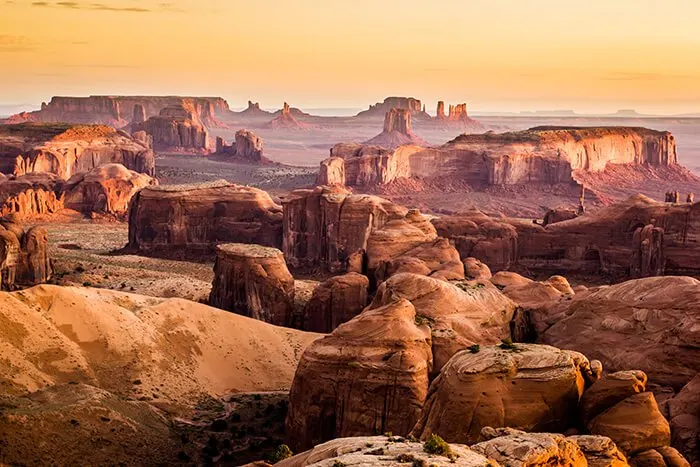 Monument Valley is a minimalist attraction located along the border of Utah and Arizona.
In spite of its simplicity, this red-sand desert may just be one of the most beautiful places you will ever see!
A 17-mile Valley Drive leads into the area, and you can spot multiple sandstone buttes that make for amazing pictures.
This valley will make you feel like you are part of an Old Western movie, set in the Wild, Wild West.
John Ford's Point is a great way to look over the scenery, allowing you to feast your eyes on the Mittens buttes.
5. Crater Lake, Oregon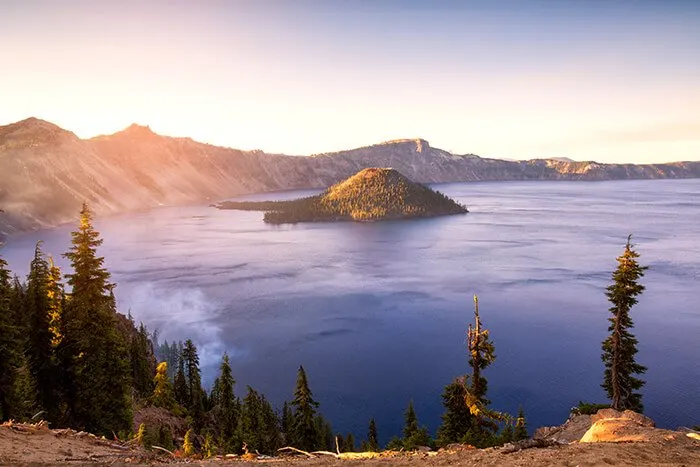 Crater Lake is an arresting body of magnificent blue water that rests peacefully within Mount Mazama.
Spanning 53 square kilometers and 2000 feet deep, this incredible caldera was left behind after an explosion more than 7 millennia ago.
It is the deepest of all similar lakes in all of the USA.
Today, the lake provides awe-inspiring reflections of its surroundings, including the pristine, white cliffs topped with snow that flank it.
You can go scuba diving in its enticing, crystal clear depths, or simply enjoy the view.
6. Niagara Falls, New York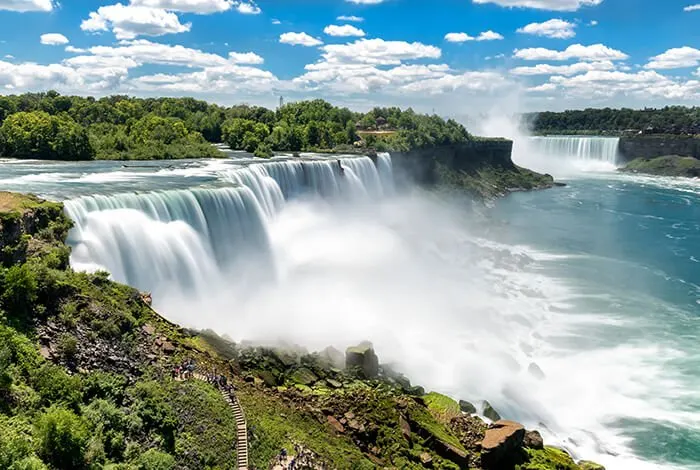 New York is home to many amazing attractions, but the Niagara Falls is arguably one of those that everyone will tell you not to miss.
It's right on the border between the USA and Canada, and it's a must-see attraction, for sure.
These falls earn over 30 million visitors on an annual basis, and it's no surprise!
When you see all that water – six million cubic feet of it in total! – plummeting downwards at each minute of every day, you'll be in awe, too.
7. Death Valley National Park, California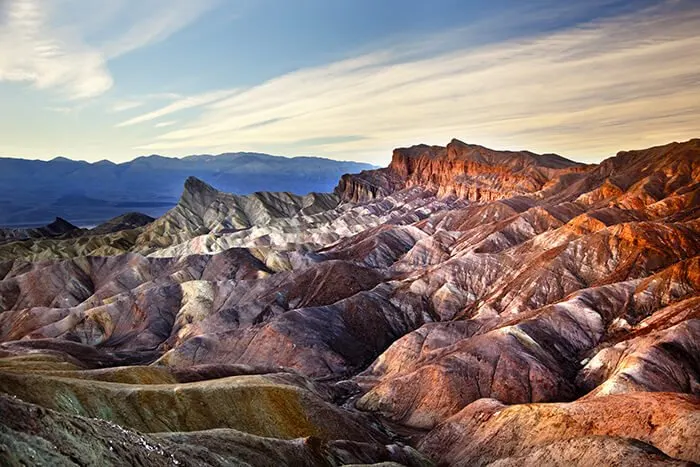 You wouldn't think that a basin called "Death Valley" would be one of the most beautiful places in the US.
After all, it is located below sea level, and it is easily the hottest and driest spot in all of America.
However, it is also home to Zabriskie Point, which is an incredible peak that provides an optimal viewing location to watch the sunset.
In addition, contrary to its name, Death Valley actually teems with life in many of its seasons.
Wildflowers sprout gorgeously after storms, snow frosts cliff tops in the winter, and small oases provide life.
It's a surprisingly prepossessing place for one so morbidly named!
Planning a trip to California soon? Be sure to check out our list of things to do in California!
8. Blue Ridge Parkway, North Carolina/Virginia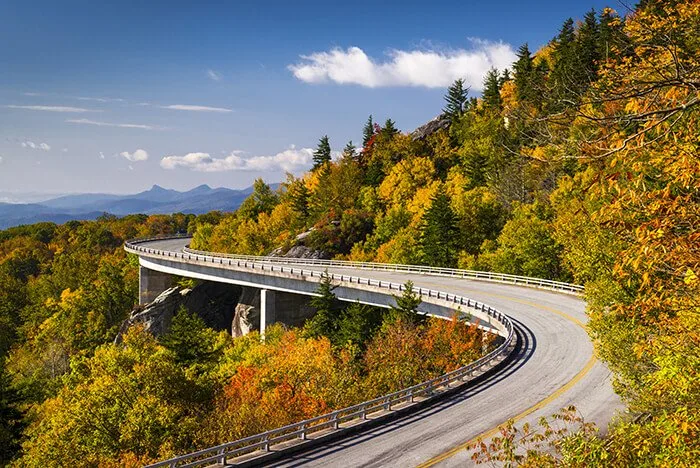 The Blue Ridge Parkway is a highway, which may surprise you, as most roads can't be considered beautiful places.
But this highway spans 469 miles in length, over multiple countries throughout North Carolina and Virginia, and offers some of the most spectacular views in the country.
Driving down this highway will allow you to take in the stunning Appalachian mountains, including multiple valleys and peaks such as the Peaks of Otter and the famous Roanoke Mountain.
If you like, you can even get off the road and go down a hiking trail of the Great Smokey Mountains National Park or the Shenandoah National Park.
9. Savannah, Georgia
Savannah is an old city that is home to multiple fascinating sites.
Its streets are paved with cobblestones and flanked by old buildings like museums and churches that are simply stuffed with history.
Downtown, you'll find one of the biggest National Historic Landmark districts in the US, which also connect to the riverfront and the coast.
If there are particular areas you would like to visit, look no further than Forsyth Park, built in the 1840s and fitted with a stupendous fountain, romantic benches, and plenty of iconic oaks covered in moss for an even more calming aesthetic.
Up for something more spooky? Take a trip to the Bonaventure Cemetery!
Planning a trip to Savannah soon? Be sure to check out our list detailing the best things to do in Savannah, GA!
10. Antelope Canyon, Arizona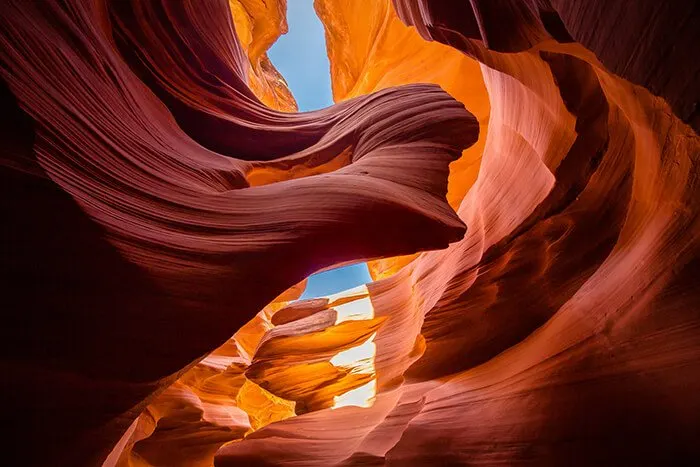 Antelope Canyon, known also as Corkscrew Canyon, is almost surreal in its beauty.
Located in Navajo territory very close by to Lake Powell, not too much hiking is required to reach this spot, which many consider the most beautiful and majestic canyon in America.
Sandstone walls and arches make up the canyon, glowing in vibrant hues of orange, red, and even pink under the streaming sunlight.
The wavy rock formations provide an otherworldly aesthetic that is sure to make you gasp in awe.
It's no wonder that this is the state's most photographed attraction; it's one of the most beautiful places you'll ever see!
11. Grand Teton National Park, Wyoming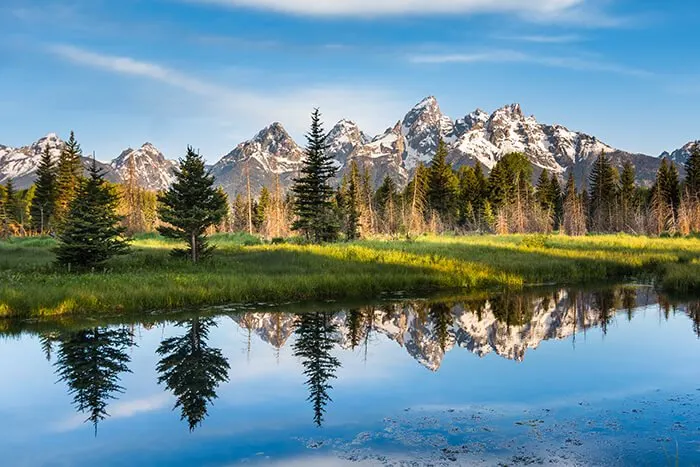 The Grand Teton National Park may just be home to the most beautiful mountain that the United States has to offer!
Located not far from Yellowstone, this park covers a whopping 310,000 acres of land and is named after the superb Teton mountain range, which is practically ancient, with areas reaching 9 million years of age.
Countless hiking trails allow you to explore this national park in all its glory.
Appreciate nature through unique wildlife, some of which is prehistoric, and gaze in awe and wonder over clear bodies of water, formed by glaciers over the years.
12. The Wave, Arizona/Utah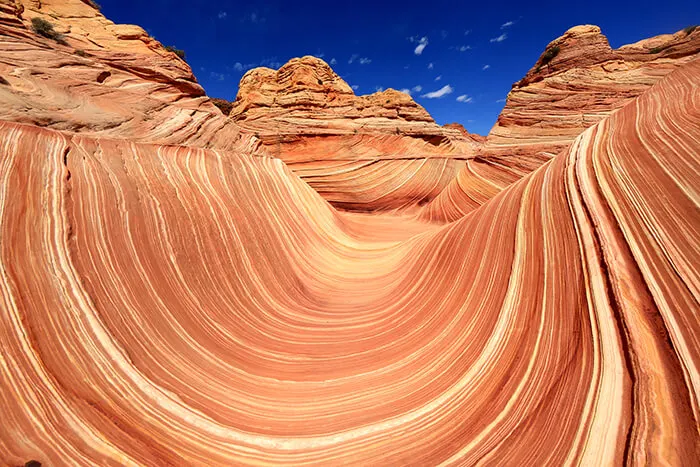 Arizona is full of amazing sandstone rock formations, and one that easily ranks among beautiful places is the Wave.
Located in the Coyote Bluffs, found in the Paria Canyon-Vermilion Cliffs Wilderness bordering Utah, these rocks fall on Navajo territory and can be tricky to get to due to rough terrain.
If you do brave out the hard trails, you'll be privy to the marvelous formations of sandstone forged way back in the Jurassic period.
It's a rather exclusive trip, too – just 20 individuals are granted permission to travel to this scenic spot every day. If you're lucky, you'll be among them!