The Land of the Long White Cloud is just so much fun to explore. The range of different landscapes packed into this small island (from bubbling geothermal pools to rolling green vineyards to ancient rainforests to glaciers) is just incredible. There are SO MANY fantastic places to see and attractions not to miss in New Zealand.
Out of all the places, there are certain destinations that obviously have more significance than the others. These are the places that you simply cannot count out of your list. These places reflect the true beauty of the country. Make sure that you include all these places to visit in New Zealand while planning your next trip. Here is the list of the top New Zealand tourist attractions:
1. Bay Of Islands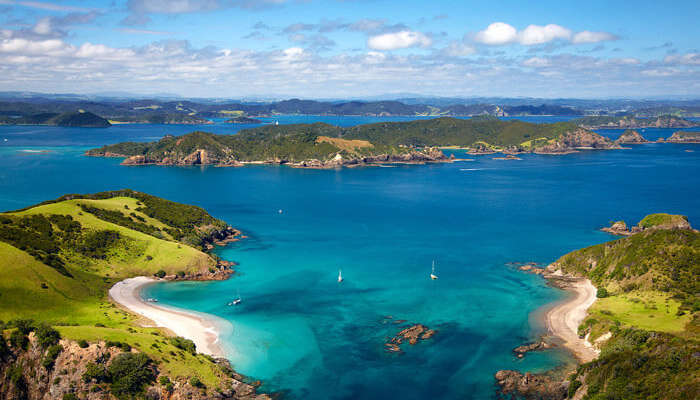 One of the most popular New Zealand tourist attractions, Bay of Islands is a haven for yachts and sailing boats. Pearls of 144 islands adorn the necklace of Bay of Islands. Kayak along the coast, hike the island trails, enjoy in secluded coves, and explore undisturbed forests. Abundant marine life including dolphins, whales, big marlin, and penguins make for a popular fishing spot. All of these together makes the spot an ideal tourist destination in New Zealand.
2. Tongariro National Park