Snowbird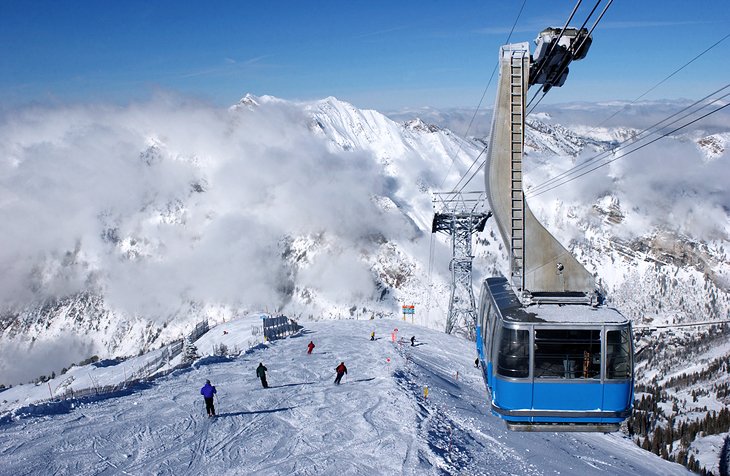 Snowbird has terrain to suit anyone but is a great resort for advanced skiers. Steep runs and open bowls are challenging but not overwhelming. This is also one of the most scenic ski resorts in Utah, with sharp mountain peaks that truly make you feel like you are in the mountains. Snowbird is adjacent to Alta Ski Resort, and the two can be skied together with a joint ticket. They are connected at the top of Sugarloaf Pass, and together the two have enough terrain to keep you busy indefinitely. These resorts tend to get hit with large amounts of snow from storms that get funneled up the Cottonwood Valley.
Unique among Utah resorts, Snowbird has a 125-passenger tram that provides access to almost all the areas of the mountain via one lift. It also has a tunnel through the mountain that skiers can move through on a conveyor belt that serves as a "ski-through" mining museum.
Snowbird recently invested $35 million to upgrade and improve their facilities. One of the major improvements was the addition of The Summit restaurant at the top of Hidden Peak, looking out over the hills and spectacular mountains of Little Cottonwood Canyon. New this season is the expansion of the iconic Cliff Lodge.
The base of Snowbird is very basic with some accommodation options but no real town or village to speak of, making it more of a skier's mountain than a sociable mountain. There is usually ample parking at the base, with the most distant lots free and the closer lots charging a small fee.