Utah is home to big mountains, thousands of acres of skiable terrain, and everything from top-end resorts to small local hills with only day use facilities. Utah can also be a surprisingly affordable ski destination, especially when compared to some of the big name ski resorts in neighboring Colorado.
At the epicenter of skiing in Utah is Salt Lake City. While there are no ski hills right in the city, there are eight major ski resorts within an hour's drive, and many of these are only 30 to 40 minutes away. Park City, just 40 minutes outside of Salt Lake City, is a popular ski town with the ski resorts of Park City and Deer Valley on its doorstep. Note that not all Utah resorts offer both skiing and boarding. Deer Valley and Alta are only open to skiers.
Staying in Salt Lake City and commuting to the ski hills can save you a significant amount of money. But if you are looking for the full-on ski-in, ski-out, or walk-to-the-slopes experience, you'll find all kinds of possibilities at the resorts.
Park City Mountain Resort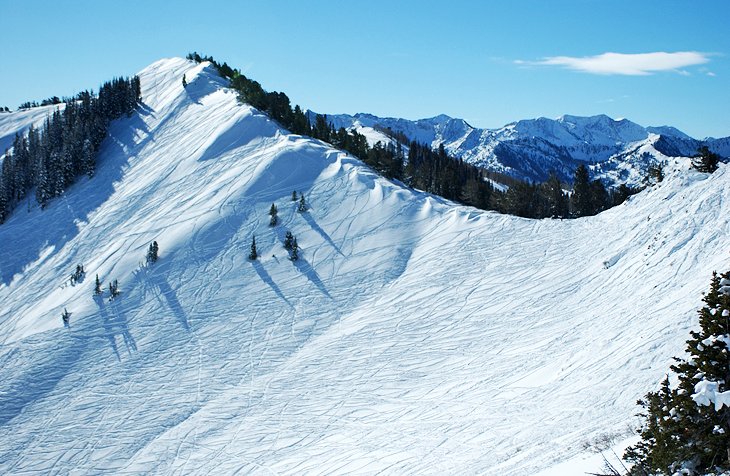 Park City Mountain Resort is a top choice for skiers coming to Utah due to its extensive terrain and its great après ski infrastructure and atmosphere, with the town of Park City at the base of the slopes. Park City Mountain Resort amalgamated with Canyons Ski Resort in late 2015 to become one of the largest ski resorts in Utah, second now to Powder Mountain. It has 7,300 acres of skiable terrain, and any level of skier can find what they are looking for at this resort.
Although these two have combined, they have separate bases (Park City Base Area and Canyons Village) and each has still maintained its own unique character. Also, many skiers still choose to ski at either one or the other if they are out for a single day of skiing because getting from one side to the other and back requires a significant amount of runs and planning, and can be an all-day project. Canyons was the larger of the two resorts before they joined and has a real mix of terrain, great on-hill restaurants serving gourmet food, and a lively base area, particularly in the spring, when concerts and other events are held here. Park City is known for great intermediate runs but also has plenty of space for new skiers and some challenging areas for those who are more advanced.
One of Park City Ski Resort's great advantages over other resorts in Utah is the town of Park City at its base. This is a real town with a vibrant Main Street, not just a ski village. Although small, it has some great restaurants and hotels and is host to the annual Sundance Film Festival. There is also lodging at the base of Park City and Canyons, with ski-in/ski-out accommodation.