Heavenly Mountain Resort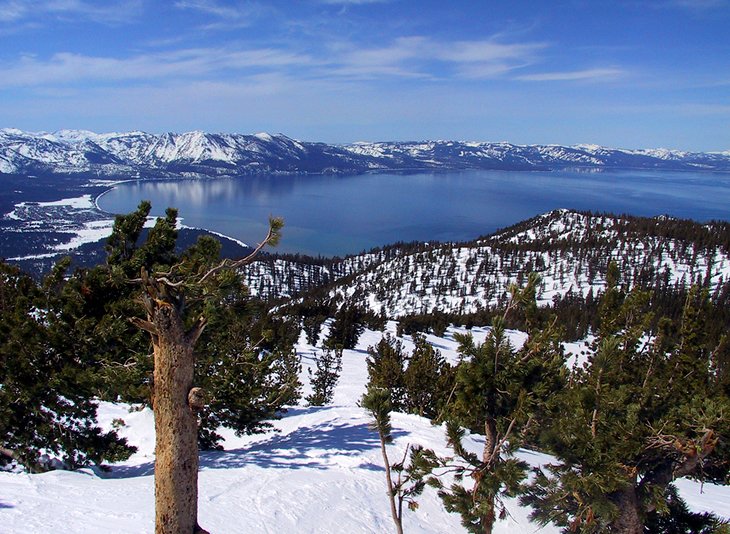 Fittingly named to describe its sublime scenery, Heavenly Mountain Resort dazzles skiers with its inspiring mountains and sensational lake views. Straddling the borders of California and Nevada, Heavenly is the largest ski resort in Lake Tahoe, with 4,800 acres of ski terrain and 34 miles of ski runs, including 97 different runs accessed by 29 ski lifts. The spectacular setting makes it one of the most unique ski resorts in the world. The resort offers wide-open, well-groomed slopes as well as runs that traverse peaceful pine forests. Sometimes skiers stop midway through a run just to marvel at the sparkling blue waters of Lake Tahoe glistening in the sunshine or the surprisingly barren landscape of the Nevada desert.
Heavenly is popular with both skiers and snowboarders and has runs for all ability levels: 20 percent of the runs are beginner, 45 percent are intermediate, and 35 percent are advanced. The most challenging runs include the 1,600-foot plunge double-black-diamond canyon runs, the 1,800-foot drop of the Gunbarrel Run, and the "pillow drops" in the Nevada Woods. For extreme skiers, Heavenly has the Highroller Terrain Park, where it's possible to attempt 80-foot ski jumps. One advantage of Heavenly over other Tahoe ski resorts is the wide selection of hotels, cabins, and restaurants nearby. The resort's lively ambience also makes Heavenly a favorite destination among those seeking a fun-loving ski vacation.