Canada's top ski resorts are largely focused on Western Canada, in British Columbia and Alberta, and to a lesser extent, in Ontario and Quebec. Whistler, just a two-hour drive from Vancouver, offers a world-class skiing experience, from the slopes to the hotels, restaurants, and shopping. The interior of BC offers some lesser visited gems with extreme terrain or family oriented resorts. In Alberta, the ski resorts around Banff are some of the best in the country. In Ontario, Blue Mountain is a wonderful family hill located just a two-and-a-half-hour drive from Toronto. In Quebec, Mont-Tremblant, known for producing some of Canada's most famous skiers, offers exceptional skiing.
Whistler Blackcomb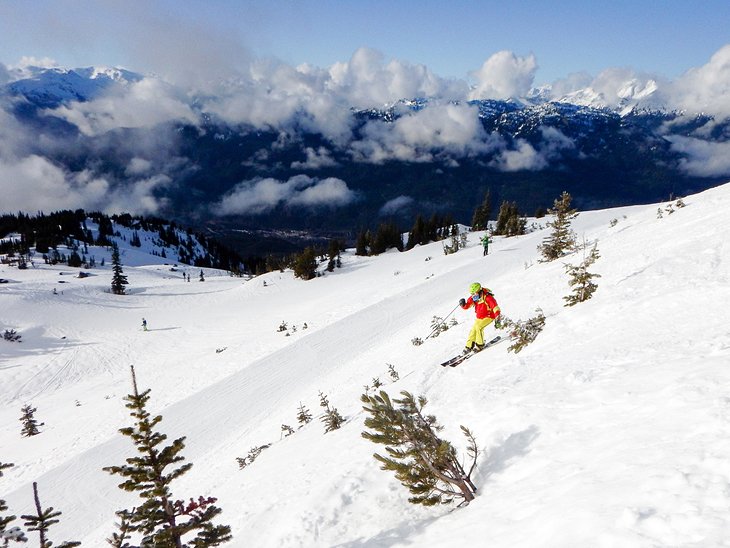 Whistler Blackcomb, recently purchased by Vail Resorts, is Canada's premier ski resort with world-class skiing and facilities. The combined terrain of these two mountains makes it the largest ski resort in North America. At the base of Whistler and Blackcomb is the enchanting Whistler Village. You don't even need to ski to enjoy a trip to Whistler, but if you do, you'll find seemingly unlimited terrain that can accommodate any level of skier, from first timers to extreme skiers. You'll find beautiful wide-open bowls on Whistler Mountain and incredible groomed runs all over both mountains. On Blackcomb, the Horstman Glacier provides year-round skiing.
The famous PEAK 2 PEAK gondola, more than three kilometers in length and the world's longest unsupported lift span, connects both mountains. Skiers and non-skiers can enjoy this gondola ride for outstanding views over the terrain and ski runs. Whistler is located in British Columbia's beautiful Coast Mountains, just a two-hour drive from Vancouver.