Looking for your next adventure or travel destination in the United States? With so many states, countless different kinds of activities, and endless landmarks scattered throughout the land, it can be hard to pick between them. But if what you're looking for are beautiful locations that ensnare the senses, we may be able to help. Here are the 12 most beautiful places to visit in the US.
1. Yellowstone National Park, Wyoming
Yellowstone National Park is a breathtaking paradise for those who love the outdoors.
Trending Now:
Spanning almost 3,500 square miles, this park is a trove of steep canyons, incredible mountains, gorgeous waterfalls, and fascinating geysers.
It is also populated with teeming wildlife, such as elk, grizzly bears, and buffalo.
On top of that, it is home to the rainbow-sheened Grand Prismatic Spring, which is deeper than 10 stories and the third largest spring on the planet.
Plus, despite its pull of over 4 million tourists on an annual basis, it's such a large place that you'll rarely run into anyone else.
So not only is it easily one of the most beautiful places in the US, but it's also a great spot for quiet enjoyment.
2. Maroon Bells, Colorado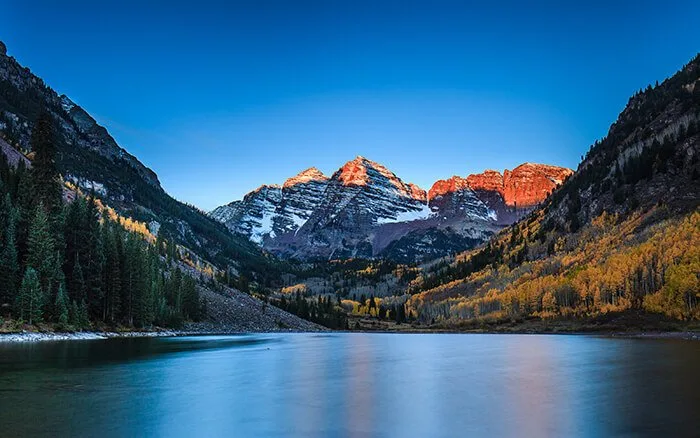 Aspen, Colorado is home to the stunning and gorgeous Maroon Bells, which earn their name from the majestic appearance cast by two peaks of the Rocky Mountains.
Beneath that grand sight, you'll be able to enjoy the crystal clear Maroon Lake, which is surrounded by lush fields full of colorful, vibrant wildflowers.
The Maroon Bells are easily in the top few most photographed attractions in the United States, and it's easy to see why.
Everywhere you turn, you'll feel like you're in a postcard. It's no wonder that this is one of the most beautiful places in the US.
3. Watkins Glen State Park, New York