Breuil-Cervinia and Valtournenche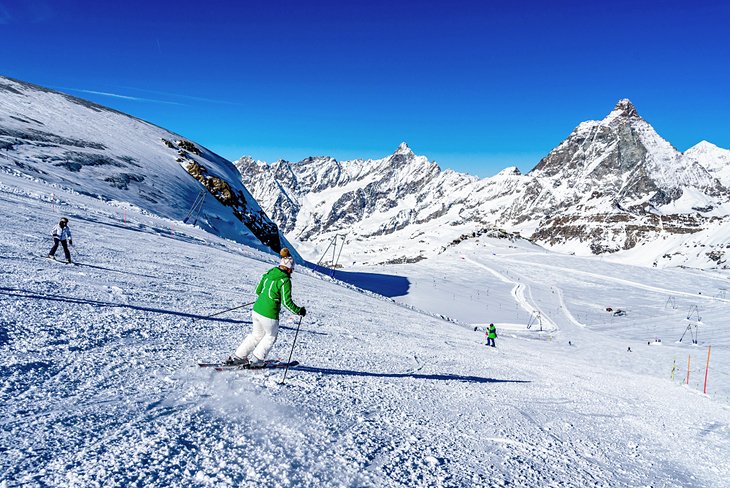 Italy's Val D'Aosta region northwest of Milan offers an experience that is on almost every skier's life list: skiing over the ridge-top international border between Italy and Switzerland, just under the peak of the Alps' most iconic mountain – the Matterhorn. The jumbled resort town of Breuil-Cervinia on the Italian side is not nearly as pretty as Zermatt on the Swiss side, but its setting is unmatched, under a sheer south face of the mountain, whose profile is just as distinctive from this angle. Board the lift right from Breuil-Cervinia's center to ski the Matterhorn's 350-kilometer trail system that connects the two countries and three resort towns.
Lifts reach an altitude of more than 3,500 meters at Piccolo Cervino (Little Matterhorn – the Matterhorn is called Cervino by Italians). The third resort town with trails tied into this network is Valtournenche, with lifts interlinking it with Breuil-Cervinia's for a total of 23 lifts. Terrain on this side is surprisingly gentle, with plenty of beginner and intermediate territory – about half the trails are labeled for beginners. Most expert skiers will want to head over the top for the more challenging pistes on the Swiss side. While the hotels and infrastructure of Breuil-Cervinia and Valtournenche don't have the glamour of Zermatt, they also don't have Swiss prices, and you'll find very comfortable lodgings and good dining here, as well as tourist attractions and activities for non-skiers in the family. Speaking of families, younger children will be enchanted by skiing around the Wild West Playground at Valtournenche.